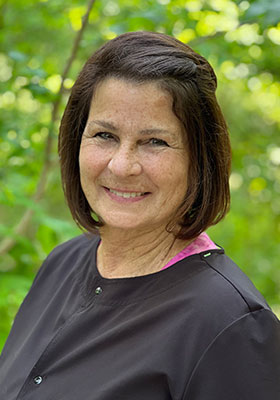 Teresa
Office Administrator
Teresa brings more than 25 years of experience to our team. She has worked as a chairside assistant as well as an office administrator. She has a vast knowledge of both clinical dentistry, as well as dental insurance, financial arrangements, scheduling, and just about anything else you'd like to know! You will appreciate Teresa's kind heart and warm smile when she helps you on the phone or when she greets you as you walk in the door.
Teresa moved to the area from Colorado in 2013 to be closer to her daughter's family, especially her new grandson! She is an animal lover with two dogs, two cats, and a bird, and she loves enjoying the great outdoors while fishing, hunting, or motorcycling.
---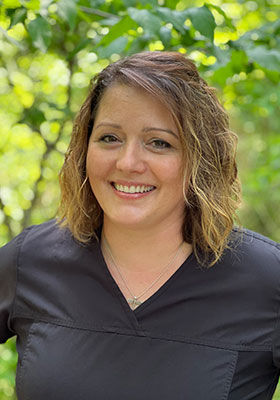 Betsy
Registered Dental Hygienist
A graduate of the University of Kansas with a Bachelor of Architecture degree, Betsy later decided to join the health care field by completing her Associate of Applied Science degree at Johnson County Community College to become a Registered Dental Hygienist. She is also part-time faculty at Johnson County Community College as a clinical instructor.
Baldwin City Dental has given Betsy a wonderful opportunity to care for the residents of the community in which she has lived her whole life. Betsy takes pride in providing the best possible care for every patient. She will get your teeth sparkling clean with no discomfort, and you can bet the conversation will be enjoyable and interesting. She enjoys meeting new people as well as caring for people she has known for years. As a clinical instructor at JCCC, Betsy has the opportunity to learn as well as teach this profession to others.
Betsy lives in Baldwin with her husband Jay and their two daughters, Baily and Carly. When not working or teaching, she enjoys cooking, canning, gardening, and spending time with family and friends.
---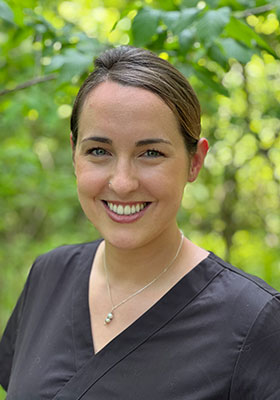 Emily
Registered Dental Hygienist
From a young age, Emily knew she wanted to go into a profession in the dental field. After a lengthy (and completely avoidable) experience in the dental chair as a child, Emily knew she would do whatever possible to take the best care of her oral health. After positive follow-up dental appointments, this led to Emily wanting to help others have positive dental experiences, also. A Johnson County Community College Dental Hygiene graduate, Emily does her best to provide a positive dental experience for all ages. She is gentle but thorough and educates her patients about improving their oral health without demeaning them or boring them with a lecture. She brings positive energy and an optimistic attitude to the practice every day!
Emily likes to spend time with her husband Austin and her daughters, Ali and Cora. She likes to spend as much time as possible outside and continuing her dental hygiene education with continuing education courses.
---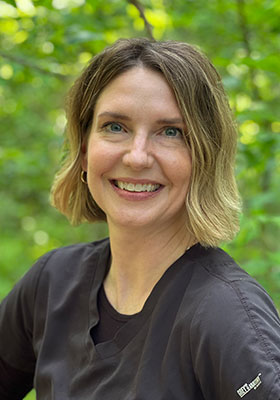 Andrea
Chairside Dental Assistant
Andrea has been involved in the dental field for most of her life. Starting out with an after-school job working in her father's orthodontic practice, she stayed there through high school and continued while earning her Bachelor of Science degree in Sociology from Kansas State University (proof that Baldwin City Dental is an Equal Opportunity Employer!). Andrea's role in the practice is to ensure every patient's comfort and to help Dr. Leiszler deliver the highest quality in each and every procedure.
Andrea and her husband then moved to the Vinland area after college to raise their family. After working for the Baldwin school district for several years, Andrea decided to return to the field that she started many years earlier. Andrea, her husband Matt, and their two daughters Ella and Nina enjoy living in the country. Raising chickens, gardening, reading, and spending time with family are all the things that make living in Kansas wonderful!
---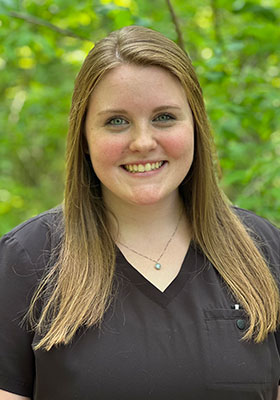 Ashlyn
Chairside Dental Assistant
Ashlyn joined our office in 2020, quickly finding her home here among the rest of the Baldwin City Dental team. Often found assisting Dr. Leiszler with procedures, Ashlyn's first priority is our patients' comfort. She enjoys getting to know our patients on a personal level to make their experience with us as pleasant as possible.
When she's not in the office, Ashlyn enjoys spending time with her boyfriend.
---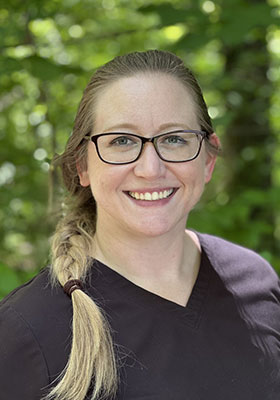 Beth
Beth, one of our dental hygienists, started her dental journey long before coming to our office. Her uncle was her dentist growing up, and while she began her studies in dental assisting, she loved dentistry so much that she switched to dental hygiene. Beth is genuine, kind, and truly cares about her patients. Her goal is to be someone they look forward to seeing and around whom they feel safe and well care for.
Beth has a daughter who means the world to her. They love to craft, spend time outdoors, listen to live music, and camp. She's also a die-hard Kansas City Chiefs fan, loves spending time with her family, and participates in charitable dental events as well.
---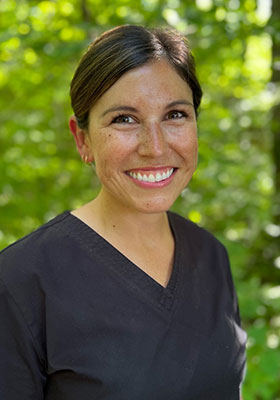 Meese
Registered Dental Hygienist
Marisa, or Meese as we call her, joined Baldwin City Dental in 2019. She attended Kansas State University for her pre-dental hygiene studies and UMKC for her Bachelor's in Dental Hygiene in 2009. Meese's love of the dentist as a kid is what inspired her to get involved in healthcare and help others. She enjoys working with children and helping to make their dental experiences as enjoyable as hers were. Meese is passionate and fun loving, takes care of our patients like family, and has fun while doing it!
Meese is a Lawrence native who loves having family near. She and her husband met while they were both in dental school at UMKC and share a love of dentistry. He works as an endodontist in Lawrence, Kansas City, and Topeka. Meese has two kids, a daughter who is seven and a son who is four, as well as a spoiled golden doodle named Lucy that loves swimming and snuggling. When she can find free time, Meese enjoys running, playing tennis, reading, boating, and spending time with family and friends.